Jubilee beacon will not be lit on Painswick Beacon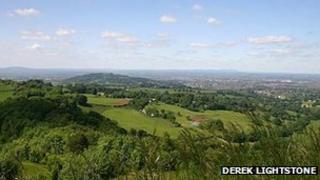 A beacon for the Queen's jubilee will not be lit on a traditional site in Gloucestershire because of the potential for "lasting damage".
Painswick Beacon is a Scheduled Ancient Monument is also a Site of Special Scientific Interest (SSSI).
Organisers of the event, on 4 June, had wanted it to take place on the same site used for previous beacon fires.
But a Natural England spokesman said a fire on the beacon itself put rare plants and butterflies at risk.
A fire will now be lit nearby, next to the Blow Family Memorial in Sevenleaze Lane, for the event.
'Tricky' decision
Martin Slinger, of Painswick Parish Council, said: "It will look all over Gloucester and parts of Cheltenham right up the Severn Estuary and you'll be able to see from right down in Stroud.
"We had a beacon cradle for the Silver Jubilee and it has never been used so it's just a matter of erecting it."
Paul Hackman, of Natural England, said he was happy with the chosen location just below and to the West of Painswick Beacon.
"It was proving tricky to find the right place on the beacon itself [because of the chance of lasting damage]," he said.
Painswick Beacon has been used as the location for beacon fires in years gone by, including the Queen's Silver and Golden Jubilees in 1977 and 2002, Queen Victoria's Golden Jubilee in 1887, and King George V's Coronation in 1911.
A network of more than 4,000 beacons will be lit throughout the UK on 4 June to celebrate the Queen's Diamond Jubilee.