New lifeboat presented to Severn Area Rescue Association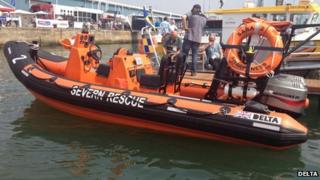 The Gloucestershire-based Severn Area Rescue Association (Sara) has been presented with a new lifeboat.
The £137,000 Delta 6.5X craft will be named after Dave Moore, a former coxswain who died in 2003.
Geoff Dawe, from Sara, said the boat would be sea-tested in the Solent before being taken by road to Portishead marina.
It will also take part in the Queen's Diamond Jubilee flotilla on the River Thames on 3 June.
"After the the presentation we'll take the boat out on the sea and check its handling at high speed and on tight turns," he said.
'Come into service'
"Then it's back by road to Portishead where the boat will be temporarily docked at the marina.
"After the flotilla the lifeboat will be taken to our Sharpness station and it should come into service later in June.
"The lifeboat has quite a lot of new features including the facility to be able to tow a boat," Mr Dawe added.
Sara is a registered charity which is tasked by the coastguards and emergency services.
It provides a 24/7 search-and-rescue service in the Severn Estuary and has also helped rescue people from inland flooding.