Dead soldiers to be honoured at rededication service in Bosnia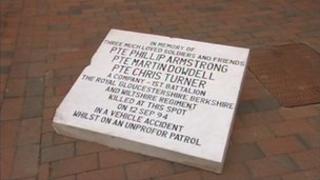 Plaques honouring three soldiers from the west who died in Bosnia are to be returned to the country and rededicated in a service next month.
Ptes Phillip Armstrong, Martin Dowdell, and Chris Turner from the former Royal Gloucestershire, Berkshire and Wiltshire (RGBW) Regiment died in 1994.
The men were killed in a road accident in Gorazde whilst on peace keeping duties with the United Nations.
The marble stones were loaded onto a truck ahead of the service on Thursday.
Ptes Armstrong, Dowdell, and Turner were from Almondsbury, South Gloucestershire; Royal Wootton Bassett in Wiltshire and Amesbury, Wiltshire respectively.
Pte Ben Hinton from Christchurch, Dorset, also died in a seperate accident that year and also has a commemorative plaque.
Ten volunteer ex-RGBW soldiers have raised £9,000 to return the two memorials to their original locations in Gorazde, south of Srebrenica, next month.
Community 'cares'
"For the army and for many of us, life has moved on and carried on," said Reverend Andy Grant, a former L/Cpl who served with the men.
"But for the families of course they continue to live with that grief to this day.
"I think for them it's fantastic. It's a great chance to show them that the regiment, the army community still cares.
"For me personally, it's a real honour to go out there, back to this place and rededicate these stones."
Reverend Grant, who will also conduct the service, miraculously survived the incident in which three of the soldiers were killed.
It is customary in foreign areas of operational service to erect memorials in-situ when colleagues are lost.
The plaques in Gorazde were carved by a Bosnian refugee from marble from nearby Montenegro.
Two sites were constructed and the memorials placed and dedicated by the battalion's Padre.
However, in 2007, at the end of the British mission in Bosnia and Herzegovina and in accordance with Army policy, all such memorials were officially returned to the UK.
They have been in storage at the Regimental Office Gloucester ever since.