Cooper's Hill cheese-rolling event 'will go ahead'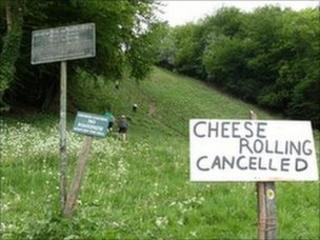 Cheese-rolling "enthusiasts" have said they are aiming to stage an event in Gloucestershire this year, despite the lack of an official organiser.
The event on Cooper's Hill sees entrants chasing a 3.5kg (8lb) double Gloucester cheese down the hill.
In 2010 it was cancelled amid safety concerns over spectator numbers. Last year's event was halted after plans to charge £20 were met with protests.
But both years the competition went ahead unofficially.
In a statement on cheese-rolling.co.uk it said: "Unless and until a new organiser and sponsor (with deep pockets) comes forward to fund and promote this age old tradition, the event will continue to be staged by local and unnamed enthusiasts, dedicated to the continuance of the event and its traditions.
Event 'not guaranteed'
"As the cheese-rolling event at Cooper's Hill no longer has an official organising committee, it is impossible to confirm the exact details of this year's event.
"No information is published ahead of the event and whilst it is assumed the day will be 4 June (at 12 midday), this is not guaranteed.
Some 15,000 people turned up for the last official cheese rolling event in 2009 but Cooper's Hill, near Brockworth, is only suitable for about 5,000.
The event was cancelled in 2011 after organisers said they had been threatened with violence after plans to sell tickets costing £20 for a two-day event were announced.
Speaking then organisers said the public backlash over the entry fee had made it unworkable.