ARRC troops to be welcomed home in Tewkesbury parade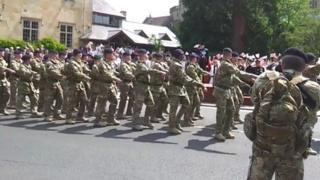 About 120 members of the Allied Rapid Reaction Corps, based in Gloucester, have taken part in a parade.
A medal parade through Tewkesbury honoured the UK soldiers who have recently returned from a six-month tour of Afghanistan.
Later, a Memorial Wall is to be consecrated and the Duke of Gloucester will present medals at the unit's base at Imjin Barracks in Innsworth.
The parade moved through the town centre and ended at Tewkesbury Abbey.
'Welcome home'
Councillor Philip Surman, the Mayor of Tewkesbury Borough, said it was a "huge honour and privilege" to host the event in Tewkesbury.
A 36-piece military band from the Parachute Regiment also marched with the parade.
While in Afghanistan, the soldiers were assigned to the Allied Rapid Reaction Corps (ARRC) Support Battalion and served in a variety of roles including providing infantry forces, searching for Improvised Explosive Devices, and working with the Afghan Security Forces.
The ARRC has had its headquarters in Gloucestershire since August 2010.
The ARRC is multinational in nature and comprises troops from the UK as well as such nations as Canada, Germany, Italy, Norway, Turkey, and the United States.