Blackfriars Priory back in business in Gloucester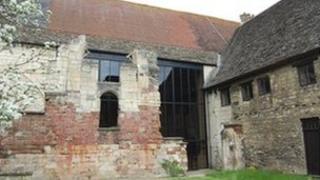 A Dominican priory in Gloucester that is among the oldest in Britain, has been brought back into public use.
Blackfriars Priory, dating back to 1270 AD, was owned by English Heritage for 50 years during which it was closed.
But, Gloucester City Council recently acquired the lease and wants to use it for events like weddings, concerts and exhibitions.
Council leader Paul James said the city's "hidden gem" would "be hidden a great deal less".
'Cultural life'
"As one of the finest buildings of its type in Europe it should be open to as many people as possible and that's exactly what we intend to do," he said.
"The regeneration of the Blackfriars area has been spoken about for decades and now it is starting to happen - and in a way that brings real benefits to local people and develops the cultural life of the city."
This deal between English Heritage and the authority has been in discussion since 2009, when £519,000 was awarded to the commission to turn the site into a commercial operation.
A search began for possible operators and the two parties have been negotiating the lease and discussing business plans since then.
"This is a very exciting day for the Priory," said a commission spokesman.
"English Heritage is delighted to have formed this partnership with the City Council and I am sure that this will become a very successful and unique venue."