Cotswold Olimpicks celebrates 400th year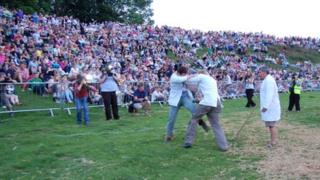 About 5,000 people have attended a shin kicking contest in the Cotswolds as a festival celebrates its 400th birthday.
The Cotswold Olimpicks were first held near Chipping Campden in 1612.
The shin kicking was the highlight of the festival being held at Dovers Hill. It involves competitors kicking each other after stuffing trouser legs with straw.
Organisers have claimed the London 2012 bid used the anniversary as part of its effort to bring the games to Britain.
According to the Cotswold Olimpicks website, the British Olympic Association stated in its bid that the "eccentric" event was "the pre-dawn of the Olympic Movement", and the Cotswold games began a thread which ultimately led to the creation of the modern Olympics.
"It's the sort of event that we don't have enough of in the UK," said organiser James Wiseman.
"We've really pulled out all the stops this year to make this an unforgettable day of festivities, and an event that Robert Dover himself would have been proud of.
"We're also hoping to bring a flavour of the 1612 Games to life, with Jacobean entertainments for children, backswords displays, Jacobean music, and other displays."
As well as shin kicking, other sporting events include tug of war, throwing the hammer and a five-mile race.