Unofficial Gloucestershire cheese-rolling attracts hundreds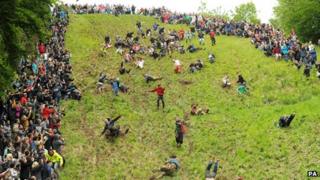 An unofficial cheese rolling event has taken place on Cooper's Hill in Gloucestershire.
Local enthusiasts again organised the traditional competition after plans to hold an official event were shelved last year.
It involves thrill-seekers chasing a 3.5kg (8lb) wheel of double Gloucester cheese down a steep hill.
An estimated 1,000 people turned out to watch a series of races on the hill near Brockworth, Gloucester.
The unofficial nature of the event meant it took place without a police presence or ambulance cover.
'Massive event'
Previous winner Chris Anderson, who won two of the races, said it was important the local tradition was continued.
"It's a massive event for myself and the local community, just to keep the tradition alive," he said.
"Obviously it would be nice if we had the ambulance to cover it and a bit more of an official setting, you look at how many people turned up this year - if they don't do something about it, it's going to go massive again."
Mr Anderson said he had once broken his ankle taking part and suffered from bruised kidneys last year.
"The best strategy is to stay on your feet as long as you can," he added.
Craig Fairley, 26, from Brockworth, won a special Jubilee race which featured a red, white and blue cheese.
Lucy Townsend came out on top in the women's race.
Threats of violence
A number of injuries were reported including a dislocated shoulder and a dislocated finger.
Ahead of the event, Gloucestershire Police said they were aware an unofficial event had been planned.
"Although no official event is taking place, police are aware of potential plans for some sort of gathering," they said.
A spokesman for Great Western Ambulance said they were not involved and St John Ambulance confirmed they had not been booked to attend.
Some 15,000 people turned up for the last official cheese rolling event in 2009 but Cooper's Hill, near Brockworth, is only suitable for about 5,000.
The event was cancelled in 2011 after organisers said they had been threatened with violence after plans to sell tickets costing £20 for a two-day event were announced.
Speaking at the time organisers said the public backlash over the entry fee had made it unworkable.