Joanna Parrish murder case news welcomed by parents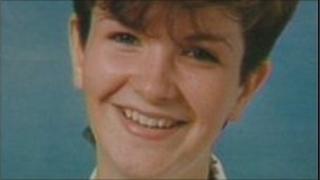 The parents of a 21-year-old student who was raped and murdered in France 22 years ago have given a cautious welcome to news of a new suspect.
Joanna Parrish, from Newnham-on-Severn, Gloucestershire, was found raped and strangled in a river in Auxerre on 17 May 1990.
The case was closed in 2010 but French police will now question a suspect already in prison for sexual offences.
Miss Parrish's father, Roger, said there was "a lot still to be done".
Her parents had vowed to "go down fighting" when the French authorities announced they had closed the case in July last year.
Their lawyers appealed the decision and this week French prosecutors said it would stay open - with new lines of inquiry.
Mr Parrish said the latest turn of events had come as "quite a shock".
"Pauline (Joanna's mother) and I have talked on a number of occasions about what we would do when they close the case and that's what we were expecting, so it's a big turn of events," he said.
'Still with us'
"Obviously we're very happy about it, but it's because we think there's a lot still to be done and obviously the prosecution department think so as well."
Two other suspects, serial killers Michel Fourniret and his wife Monique Oivier, have still not been ruled out of the case.
The Parrish family lawyer in France said "little is known" about the new suspect "except that he has a serious criminal record and is already in prison in France for sexual offences".
Miss Parrish's mother, Pauline Murrell, said: "Jo's never going away, she's still here with us.
"We look at our grandchildren and just think we would have had grandchildren with Jo as well now.
"We've got to do our best for her haven't we? We've got to get to the end of this somehow or other."