Gloucestershire group to tackle B4077 safety concerns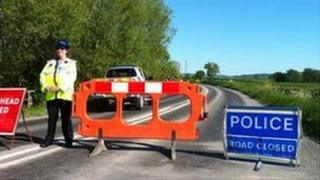 Road safety concerns after a fatal collision at a petrol station have led to the creation of an action group.
Residents of Alderton, Gloucestershire, attended a public meeting on Wednesday to voice their worries about the B4077.
Speeding, poor visibility and dangerous overtaking were among the issues discussed at the meeting.
Julie Stodart-Cook, 43, died last month when her car collided with Alderton Garage. A local resident said the road surface was in "a very bad state".
'Get things done'
The chair of Alderton Parish Council, Keith Page, said the B4077 had become a "major route" through to the M5.
"There is an immediate problem over the road surfacing and I think we might well have moved that a little bit further forward to get some more appropriate signage while there is a problem on the road," he said.
"We have an opportunity now to go forward and work with our partners at the county council and the police, and everybody seems to be up for attending the same sort of meetings to get things done."
As well as members of the local community, the meeting was also attended by Gloucestershire Police and Gloucestershire Road Safety Partnership (GRSP).
'Improve road safety'
Dave Hornibrook, head of GRSP, said: "This is a busy road, and the local community are telling us they are experiencing problems with speeding, poor visibility and dangerous overtaking.
"Working with the local community, the police and Gloucestershire Highways, we are setting up a community action group made up of Alderton Parish Council and residents who put themselves forward at the meeting.
"Together we will work to raise awareness of and improve road safety along this road."
Gloucestershire Police said the meeting was attended by more than 50 residents who were "very vocal and passionate".
Insp Owen Hughes said police understood the strong feelings shared and he hoped the "multi-agency workshop" would show that the authorities were listening.