Rower Charlie Martell rescued after North Pacific storm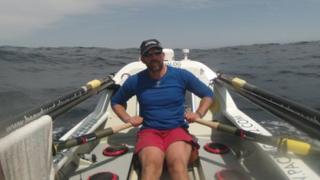 A second British rower has been rescued from the Pacific Ocean after raising the alarm during a solo attempt to row from Japan to the US.
Charlie Martell, from Gloucestershire, had to abandon his journey after his boat was damaged by a tropical storm.
He issued a distress call on Thursday and a merchant vessel picked him up on Friday, Falmouth Coastguard said.
British adventurer Sarah Outen, 26, was also rescued on Friday after her boat was damaged by the same storm.
50ft waves
While at sea the rower had encountered winds of up to 50 knots and waves of more than 50ft in height (15m).
His spokesman, Adrian Bell, said the conditions during the tropical storm had repeatedly caused the boat to capsize, which damaged the vessel.
Mr Bell said: "It was a very frightening place to be - we were speaking to him during the storm and he was capsizing several times even when we were on the phone to him and everything would go quiet.
"We would hear a rush of water and then Charlie would come back on the phone a bit shaken but would still be able to tell us what was going on."
He added that Mr Martell, the son of award-winning cheesemaker Charles Martell, was "emotional at having to bring the crossing to an early close".
Good shape
Coastguard authorities in the UK were alerted shortly before 21:30 BST on Friday that Mr Martell, 41, a Territorial Army lieutenant, had been rescued by MV Last Tycoon. He had issued his call at 09:00 on Thursday.
The vessel is now on its way to Vancouver, Canada, where it is due to arrive in about 10 days' time.
Crew members were alerted to the rower's plight by the Japanese Coastguard and altered their course to pick him up.
A message on the rower's website said Mr Martell had spoken to his support team to tell them he was in good shape.
His boat Blossom was damaged during tropical storm Mawar on Thursday, prompting him to issue a mayday signal.
The Russian crew of Last Tycoon are attempting to recover the rowing boat, according to Mr Martell's website.
He had been 34 days into the journey, which began on 4 May, and about 700 miles (1,100km) from Japan when he raised the alarm.
The world record holder was hoping to set new records by completing the 6,000-mile (9,656km) challenge.
He wanted to achieve the fastest crossing of the North Pacific Ocean and be the first unsupported row across the Pacific.
On Friday, Ms Outen, from Rutland, was rescued after the same storm disrupted her bid to become the first woman to row from Japan to Canada.
Her 4,500-mile (7,250km) record attempt was part of a 20,000-mile (32,000km) around-the-world solo expedition .
She had been at sea for 24 days and was about 500 miles (805km) off the coast of Japan when she made an emergency call to the coastguard.