Stephen Morris reviews Laurie Wright from Cheltenham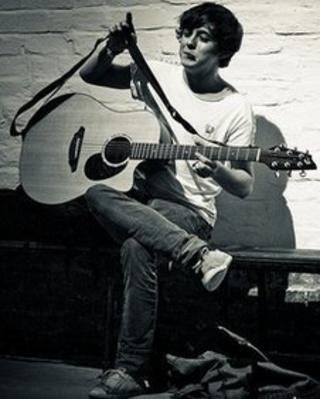 There is a standard cliché that club DJs start plying their trade to meet girls.
Singer-songwriters are, by contrast, an entirely different breed.
They're the ones who met a girl and then lost her in the most sorrowful circumstances imaginable, or never got to meet the girl in the first place.
Cheltenham's Laurie Wright fits firmly into this mould: a tormented soul, composing his songs and love and loss in a bedroom far away from the happiness of others.
It's there most obviously in 'Mundane Mandy', a five-minute-42 epic of a song featuring as its centrepiece the following astute confession: "I'm not sure if I miss you more than I miss being in love with you".
The Mandy of the song's title is, in fact, far from mundane.
Instead, she's a terrible tease, leading our troubled hero up a garden path of promises of affection, all the while having her eye on some other rival.
The wanton, brazen Jezebel!
'New genre'
The theme of the song is as old as the hills and as familiar as any plotline on 'Eastenders'.
But what makes 'Mundane Mandy' and, in fact, all of Wright's songs stand out, is the intricate entwining of music and lyrics.
Wright's songs come from the relatively new genre where acoustic guitar and hip-hop meet.
It was first there with the likes of Plan B's first album and is now more commonly associated with Ed Sheeran.
In 'Mundane Mandy' and later 'Sway As The Sun Rises' and 'Who Truly Knows', Wright fires off rapid lines of rhymes usually reserved for Brooklyn or Harlem's finest.
Witness, for example, these lyrics from 'Sway As The Sun Rises': "as I play with the colours that amalgamate through music/we meditate and elevate to a higher state of mind/no hate can penetrate gates of mind, body and soul'.
'Trifling troubles'
Meanwhile Wright maintains all the glum, self-searching of any other post-Libertines singer-songwriter.
It's all done with an elaborate, inventive guitar accompaniment recalling, at times, Anna Calvi.
Absolutely exquisite.
'Sway As The Sun Rises' and 'Who Truly Knows' are focussed less on the unlucky in love and more on ethereal themes.
'Sway…' concerns itself with trying to rise above all the trifling troubles that surround you.
Elsewhere, 'Who Truly Knows' is an account of self-doubt and subsequent awakening, featuring an attempt to convey meaning without lyrics preceded by the following line: "So without words in the middle eight I shall sincerely try to explain the moments that truly opened up my eyes".
It's a self-knowingness that can be traced back to the opening song of The Beatles' 'Sgt. Pepper's Lonely Hearts Club Band' - and no doubt further back still to the music hall tradition that inspired the Fab Four's record.
In the space of three songs, Laurie Wright has proved himself a musical force to be reckoned with.
Don't let the half-mumbled confessions and sorry tales deceive you. Wright is on top of his game and deserves your attention.