Rail delays after cables damaged in north Cheltenham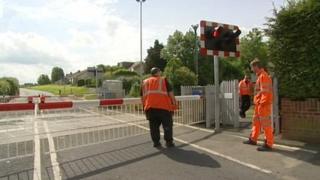 Railway users in the Cheltenham area suffered "significant delays" after a number of cables were damaged in the early hours.
Engineers spent much of Thursday repairing the cables to the north of the town's railway station.
British Transport Police (BTP) said officers had been called to the line at Arle Road just after 03:30 BST.
"Officers attended the location and discovered power cables had been cut but not stolen," he said.
"The incident caused disruption to the rail network and affected passengers, with many trains delayed as a result of the vandalism.
"Anyone with information, or knows who is responsible, is urged to contact BTP officers or Crimestoppers anonymously."
There was also disruption to some drivers for several hours after the barriers at two level crossings - in Swindon Lane and on a minor road between Swindon Village and Brockhampton - came down and could not be raised.
A Network Rail spokesman said engineers had been on site since the early hours and normal service was resumed at 15:40 BST.
"There is still some work left to do but this doesn't impact on safety so won't affect the service."
Speaking earlier on Thursday the spokesman said there had been "significant damage" which had stopped the signals from working correctly - limiting the number of trains that could be run safely.
Users had been warned of delays and cancellations and replacement buses ran between Cheltenham and Worcester.