Gloucester's Fleece Hotel made weatherproof after repairs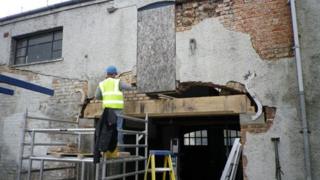 Parts of an historic hotel have been made weatherproof as work continues to redevelop a complex in Gloucester.
The Fleece Hotel on Westgate Street is undergoing a £350,000 facelift to bring the buildings back into use.
Serious defects at the Salt Loft and Kitchen Block have been rectified to allow the building to dry out. Precise repair work will now be planned.
Gloucester City Council acquired the complex last year after the building had been empty for about 10 years.
Demolition work
Parts of the building are Grade I listed and are more than 500 years old.
In this latest stage of work, parts of the roof have been repaired and replaced to secure the Salt Loft against the elements.
English Heritage and the authority's conservation team will now work together on a repair plan.
The city council said some demolition work would take place on parts of the hotel deemed insignificant by the archaeological team and a number of consultees.
Once urgent repair works are completed the authority will be seeking a partner to complete the restoration.