Stroud man jailed for stabbing wife's cat to death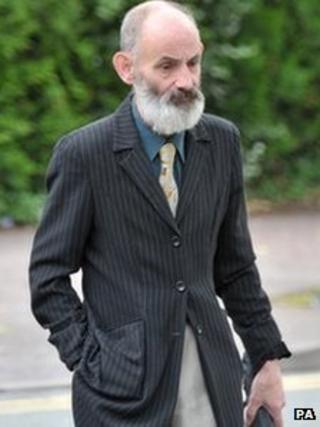 A Gloucestershire man who stabbed his wife's cat to death and threw it over a fence has been jailed for 14 weeks.
Andrew Beese, 60, admitted causing unnecessary suffering to an animal on 29 December, at Gloucester Magistrates' Court last month.
Beese, of Bisley Old Road in Stroud, claimed at the time of the incident that the cat had attacked him.
Cheltenham magistrates also disqualified him from keeping any animals for the next 20 years.
Nick Sutton, prosecuting, told magistrates that Beese had stabbed the five-year-old cat, called Koko, which was nursing four kittens, several times.
He severed its aorta, causing extensive bleeding and then disposed of its body in the back garden.
"This was a premeditated attack," Mr Sutton said. "It was done out of spite. He killed the cat and it died from very obvious stab wounds. It really doesn't come more serious than this."
Steve Woodward, defending, said Beese did not remember stabbing the cat, but accepted the evidence against him.
'History of violence'
He said his client, who had been drinking excessively, had argued with his wife before the stabbing.
Beese's wife attended court to support him, but was asked to leave by Peter Langman, the chairman of the bench, after repeatedly interrupting as he passed sentence.
Mr Langman said sentencing such a crime was "not something we deal with on a regular basis".
"It was a persistent incident and clearly resulted in the death of an animal which was protected under the Animal Welfare Act," he said.
"We have seen from your record that you have a history of violence towards people, indicated by a caution for battery in 2009.
"We are concerned as to the risk you pose to others. The report notes this as an escalation in the seriousness of your behaviour."
RSPCA Inspector Phil Mann said: "These are very nasty, very rare cases where somebody actually very specifically does something this nasty to an animal.
"[It's] one of the reasons I welcome the fact that he's been banned for 20 years."
He added: "I do welcome a prison sentence for something this severe mainly because it sends out the right signal to anyone who feels that it is right, or permissible, that they can carry out an act in this way."