Student Roger Auster bids to beat space hopping record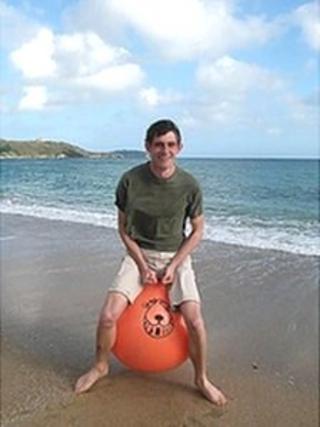 A space-hopping student from Gloucestershire has bounced for four miles in a bid to beat the world record.
Roger Auster, 19, from Minchinhampton near Stroud, made his attempt on Gwithian Beach in Cornwall earlier.
He says the record for the furthest distance travelled on a space hopper in 24 hours is just under four miles.
He said: "I was initially going to do 3.9 miles but pushed it to four because it wasn't as bad as I expected."
The zoology student began his bid on the North Cornwall beach at about 09:30 BST.
He said he made his attempt on sand because "it wouldn't hurt so much" when he fell off.
"It's quite tough sand and not as soft as it could have been," he added.
"But I'm quite pleased, I have a bit of pain in my legs and in my lower back but it wasn't as bad as I expected."
'Quit while ahead'
Mr Auster, who has also raised over £900 in sponsorship for the World Land Trust, was expecting the attempt to take over five hours to complete.
"I felt sorry for the people who were coming to watch me as I thought it was going to be quite slow," he said.
"But it was shorter than I thought - it only took about two hours and 20 odd minutes.
"It would have been possible to go on but I thought I should quit while I was ahead and before I hurt myself.
"Anyway the attempt has been filmed and witnessed so I should know whether I've broken the record in six to eight weeks."