M5 services appeal: Stroud council seeks £25,000 costs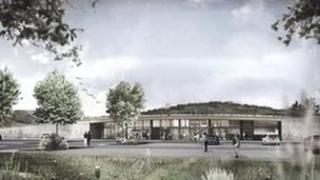 Two service station operators are being asked to pay costs of £25,000 for taking action against plans for new M5 services.
On Friday, objectors lost their final appeal against plans for the £35m service area in Gloucestershire.
Stroud District Council, the local planning authority, said it was seeking costs from Welcome Break and Roadchef.
"Their actions have diverted staff from other worthwhile projects," said a council spokesman.
Councillor Dennis Andrewartha, executive member for planning, said: "I am disappointed at the actions of two large commercial organisations who seek to overturn local decisions made for the good of the district as a whole."
'Sustainable development'
The service area at Ongers Farm, near Gloucester, was originally granted planning approval in 2010.
Five claimants objected to the plans, saying Stroud District Council had not fully considered an analysis of the need for another service station.
Welcome Break, which operates Michaelwood near junction 14, and Roadchef, which operates Strensham near junction eight, were amongst the claimants.
The council said it was sending an itemised bill totalling £25,000 to the two service station operators, because the losers of the case had to pay the costs. Roadchef and Welcome Break had agreed to pay costs for all five objectors.
Mr Andrewartha said he was "delighted" with last week's decision.
"The council has a policy of promoting sustainable development and the offer from Gloucestershire Gateway Limited to source a significant amount of their goods from the local economy is to be welcomed.
"I am aware that the applicant has started preparatory works and intends to start on site later this year."
Roadchef and Welcome Break have not yet commented.