Giant Olympic rings appear in Bath field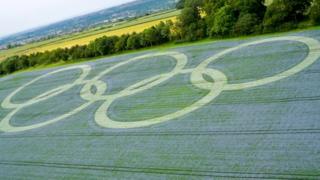 Giant Olympic rings, the size of two football pitches, have begun to appear in a field in Somerset.
Gerald Addicott, from Corston Fields Farm near Bath, planted the five rings of white-flowered linseed in a crop of blue linseed in March "just for fun".
Now each 55m (180ft) diameter ring has begun to flower to reveal the massive 196m (643ft) wide Olympic logo.
Mr Addicott said: "It's amazing what you can do with five sticks and a bit of string."
Visible from the A39, between Corston and Marksbury, the white-flowered crop is currently "well ahead of the blue" and "the rings are showing well".
'Job done'
"It's changing by the minute and when the white linseed runs out of steam, then it will be green rings on a blue background," said Mr Addicott.
"But linseed flowers are illusive, they bloom for a few hours each day and for a few weeks in June.
"Exactly when the crop blooms during the day and how long that display will last can't be predicted."
Mr Addicott, who was born in 1948, the year of the last London Olympics, is also celebrating his birthday on the same day as the London 2012 opening ceremony.
"This year, they open on my birthday and I thought it would be quite a nice idea to make something on the farm that we all would remember, " he said.
"And if somebody drives past and looks up and sees these rings and smiles then it's job done I think."