Protests over Royal Agricultural College name change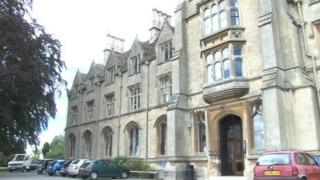 A plan to change the name of the Royal Agricultural College in Cirencester has been criticised by former students.
The college has announced it will apply for university status later this year, and intends to become the Royal Agricultural University.
Hundreds of people have signed an online petition calling for the proposal to be scrapped.
It follows a government ruling that any college with more than 1,000 students can apply to become a university.
Almost 700 people have signed the petition, saying the name change "will act to the detriment of the reputation, brand, attraction and recognition of the Royal Agricultural College and its Alumni".
In a statement on the college's website the college said it would be applying to the Privy Council later this year to change its name.
Principal, Professor Chris Gaskell, said: "Recognition of the work of the institution through the title 'university' is important, not least for students and prospective students.
"I am confident that the Royal Agricultural University will build on the reputation and legacy of its parent, the RAC."
The college, which teaches subjects such as agriculture, business, equine management and food production, is the oldest of its kind in the English-speaking world, dating back to 1845.