Report cites rare bat issue at Gloucestershire waste site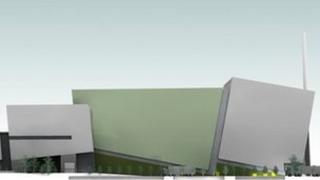 A report has recommended that a licence to run a waste incinerator in Gloucestershire be refused due to a rare species of bat being found there.
Urbaser Balfour Beatty wants to build an Energy from Waste incineration facility at Javelin Park in Haresfield.
Gloucestershire County Council commissioned Bureau Veritas to review the Environmental Statement accompanying the planning application.
Its report states the bat survey contained within is "insufficient".
The endangered Barbastelle and Greater Horseshoe bats have been found to be active at the site, situated at junction 12 of the M5.
Only 4,000 Greater Horseshoe bats have been recorded as living in the wild in the UK.
The report, which was posted on the Gloucestershire County Council website but removed after 24 hours, goes on to state that Urbaser's information regarding the bats is "misleading and underplays the importance of the species recorded".
A Gloucestershire County Council spokesperson said: "We've commissioned a technical report into the planning issues around the Javelin Park development, the purpose of which is to raise issues for the applicant to clarify before the application is considered.
"The report was put on the website before they had the opportunity to respond. We've taken it down to allow them time to formally address those issues. Of course, before any planning application is considered all relevant documents will be published in full."
'Foraging area'
The Bureau Veritas report goes on to state the site "may form part of a wider foraging area or commuting route" for the bats and it was not possible to "assess the value of the site and boundary to Greater Horseshoe bats based upon the level of survey effort undertaken to date".
Urbaser Balfour Beatty said the company was in liaison with the Waste Planning Authority in relation to a number of technical elements of the proposal, including the issue of bats.
Sue Oppenheimer, of campaign group GlosVain which is against the building of the waste facility, said: "It is very concerning that this important independent report is no longer being displayed on Gloucestershire County Council's website.
"It does raise questions about why the report has been removed. The public should be given access to all the facts."
A planning application for the plant was submitted by Urbaser Balfour Beatty in March.
The plant, which is due to open in 2015, will produce electricity and recycle household waste.