Stephen Morris reviews Cheltenham band Stressechoes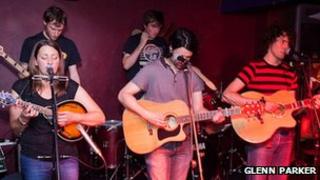 It's all there in the title. Stressechoes' excellent album, 'Goodnight, Impossible', is full of thwarted ambition and whimsical dreams.
From the beginning of the album's first song, this heady mix of hope and disappointment is there.
The eponymous moon of the opening song, often a metaphor for dreaminess has "his fat face half turned away from mine", prompting allusions to other lunar traditions of sadness and melancholy.
With this album, the sun definitely doesn't have his hat on.
'Bleak, baron world'
Grim, pragmatic reality pervades the album, a record honed from insight, thoughtfulness and no little wit.
'Sunrise', with its frustration about routine matched with daydreaming about escape from drudgery; 'Small Talk' with its tale of a marriage of compromise and its recurring line of 'have you realised the futility of life'.
It may be sung over a jaunty bass line recalling Andy Rourke of The Smiths, but as with many Smiths songs, it's a bleak, bleak, baron world Stressechoes describe.
The sense of dissatisfaction and restlessness is there too in 'She's The Sea' featuring Juey, whose simultaneously released album, 'Ever Decreasing Circles', will get a review shortly.
The Juey collaboration begins optimistically enough, describing the thrill of young love before the contempt and just plain boredom brought on by years of familiarity sets in.
'17' is full of wistful memories about childhood dreams of being a superhero; 'Shakey' is littered with wishful thoughts and the title of the song 'Regret' speaks for itself.
'Glistens and shines'
Meanwhile the sense of finality and the ultimate point-of-no-return where dreams are once and for all put to an end in the heartbreaking 'Railings Round Yer Grave', whose mournful harmonica accompaniment says so much more than even the excellent lyrics can.
And yet, despite all the longing, all the failed dreams and heartbreak, something beneath the surface of 'Goodnight, Impossible' glistens and shines.
There is humour aplenty too, whether it is moaning about bores at parties or mocking the life of someone who works in advertising.
If you work in advertising, this album may not be for you.
Hope persists in subtle shades with songs like 'Marie', a pure, simple love song recalling Clearlake's 'Jumble Sailing' from the turn of the millennium.
And in 'Be Good' there is the confession that for many it is better to have loved and lost, to have dreamed and failed, than to have never loved or dreamed at all.
Because maybe the alternative isn't worth thinking about.