Gloucestershire teenagers spoken to after racist tweets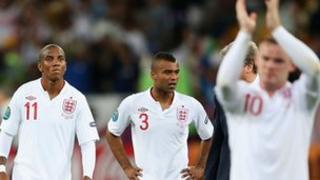 Two teenage boys have been spoken to by police about making racist tweets during the Euro 2012 England v Italy match on June 24.
Chelsea's Ashley Cole and Manchester United's Ashley Young were targeted after they missed penalty kicks.
Gloucestershire Police said a 13-year-old from Gloucester was spoken to under caution and a 15-year-old from Tewkesbury was given a formal warning.
The pair admitted sending the tweets which used offensive words.
The 13-year-old attended Gloucestershire Police Station on Tuesday with his father.
'Expressed remorse'
He was spoken to under caution where he admitted he was responsible for the tweets and was remorseful for his actions, police said.
Officers met with the 15-year-old, in the presence of an appropriate adult.
He admitted to posting the tweets and expressed remorse.
Police said he will be issued with a formal warning because he has previously been arrested for offences which were not racism-related.
Both teenagers have since deactivated their Twitter accounts and will be asked to write a letter of apology to the individuals targeted.
Superintendent Gary Thompson said: "We will not tolerate any form of racism in the county no matter how it is committed, be it in person or via social media sites such as Twitter.
"The individuals involved have been spoken to about the content of their tweets and given strong words of advice about their behaviour.
"Both were apologetic for their actions and we believe we have taken firm but appropriate action."
Gloucestershire Police added that the teenagers were not responsible for the tweets that made national headlines following the match, which are being investigated by the Metropolitan Police.