Warning over cashpoint devices found in Gloucestershire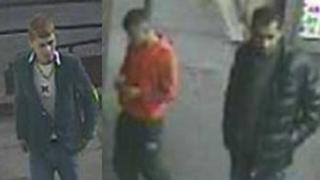 Bank customers in Gloucestershire are being warned to be vigilant after three suspect devices were found attached to cashpoint machines.
Branches of Barclays in Glenville Parade in Hucclecote and Bristol Road in Gloucester were targeted.
In each case a metal strip coated with a sticky substance was placed over the cash dispenser, resulting in some bank notes not fully ejecting.
Police want anyone who can identify suspects seen on CCTV to contact them.
One of the three offenders is described as having a Mohican-style haircut with dyed blonde hair in the middle. Another is described as Asian and around 6ft (1.8m) tall. The man seen with him is considerably shorter.
They are believed to have used a black Toyota sports car with a spoiler.
PC Andy Plant of Gloucestershire Constabulary said: "Be extra vigilant if you can. These devices aren't very sophisticated.
"Before you make a transaction, have a little feel around the cash dispenser and just check everything is in order."