Spitfire grounded by weather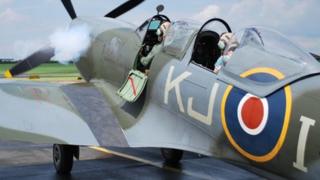 A rare Spitfire which was unable to fly at the Royal International Air Tattoo because of the weather has been unable to return home to West Sussex.
The two-seater aircraft operates out of Goodwood Aerodrome but cannot fly back due to waterlogged conditions at the base.
Rain halted the Spitfire display at the air show on Friday evening.
Boultbee Flight Academy, which owns the Spitfire, said it was hoping to fly the plane back later this week.
'Financial implications'
Matt Jones, managing director of the academy, said: "Goodwood is an all-grass airfield, and it is normally very resistant to flooding, but with the kind of pressure it has been put under in the last week or so it is now not suitable for taking the aircraft in."
He hopes that the plane being grounded would not be too costly for the business, but said it was a "great irritation".
"The core of our business is training and most of that training can be done on another day.
"We go to best efforts to plan around people's diaries, but there are displays we are missing which do have a financial implication."
The Spitfire, which was converted into a two-seater for training purposes, is currently in a hangar at Gloucestershire Airport.
There are six similar planes in the world and five of them are in this country.
Darren Lewington, from Gloucestershire Airport, said: "Obviously with the Air Tattoo on at Fairford this weekend it was mecca for aviation enthusiasts, but we had our own little private display on Sunday which was delightful.
"Summer has been completely missing so far and that could keep it here a bit longer, but I'm not in any rush to see it depart.
"It's lovely to have such a beautiful aeroplane with us."