Cheltenham charity offers help for older people in debt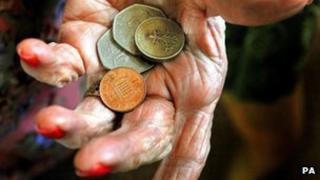 People aged 50 and over in Cheltenham are set to get extra support from a charity over how to tackle their debts.
Hesters Way Neighbourhood Project has won a grant to help fund a specialist debt adviser for the over 50s.
The charity ran a pilot last year which identified an increase in the number of older people struggling to manage their finances.
Once the post is in place the charity aims to help at least 90 people a year in the Hesters Way area.
Julie Farmer, who chairs the trustees, said: "It may sound dramatic but we certainly hear from older people who are finding it overwhelming and who end [up] feeling suicidal because they don't know where to turn."
Local charity Cheltenham Housing Aid Centre (CHAC) has also experienced an increase in the number of older people struggling to pay off debts.
'Benefits under pressure'
CHAC also started a programme in March to help the over 50s with money management advice and helps up to 20 people a month.
The CHAC programme will run for the next five years.
Money adviser Gary Lindsay, from CHAC, said: "More and more people are in this age range are finding themselves in debt.
"There is a squeeze from income at the one end, benefits are under pressure which is leading people to spend a higher proportion of their income on housing expenses and making adjustments reducing other expenditure is difficult.
"Credit isn't as readily available now as it was 10 years ago and that means people are turning to sub-prime or payday lenders and people are paying more to borrow and not realising what they're letting themselves in for."
The Hesters Way Neighbourhood Project is based in one of the most deprived areas of Cheltenham and serves a community of about 20,000 people.