Malawian Olympic athletes train at ARRC in Gloucester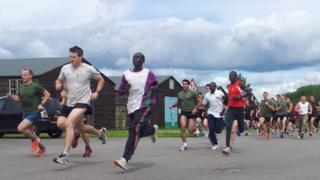 Members of the Malawian Olympic team have taken part in a NATO fitness training exercise in Gloucester.
Marathon runner Mike Tebulo and 400m runner Ambene Simukonda joined in the annual Allied Rapid Reaction Corps (ARRC) fitness test at Imjin Barracks.
The basic training involved sit ups and press ups for both athletes, and a 1.5 mile (2.4km) run for Mr Tebulo.
The Malawian team is based at the nearby University of Gloucestershire in the run-up to London 2012.
About 150 military personnel from ARRC also took part in the training.
'Just jogging'
Major Tim James said: "It's great for our soldiers to get visibility of an elite athlete - somebody that in couple of week's time they'll be able to watch on the television.
"We pride ourselves on our fitness, we think we are as fit as anybody else. Today will show that we are not.
"The Malawians will run far quicker than any of us have ever done before.
"It's an opportunity for us to realise we're not as fit as we think we are, and hopefully force people back into the gym."
Mr Tebulo, who completed the run in just over seven minutes, said: "It was good. It was not race, I was just jogging. Even the shoes I was using were very heavy.
"I'm enjoying it here in Gloucestershire. The weather today is changing. People tell me this is the summer, but a few days ago it was like winter."