Flood victim recalls 2007 crisis in Gloucestershire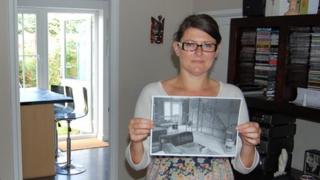 On 20 July, 2007, heavy rain and flooding in Gloucestershire led to the start of a crisis that lasted for weeks.
Some 2,000 people spent the night in emergency centres and hundreds of motorists were left stranded on the M5 by rising floodwater across the county.
It was the second time in a month that Leia Rosenberg, 33, had had to evacuate her Longlevens home. She explains how the crisis led to a life-changing experience.
25 June, 2007
"Thinking back to the first flood I was simply not prepared. My house had become an island and panic kicked in.
I woke my children and my first thought was getting them changed and out of the house to safety.
After I called my childminder and explained the situation, I took them out the back of the house along the embankment by the bypass and through the adjoining field where she collected them and took them to her place for breakfast and to get them to school.
I moved as much as I possibly could carry on my own up the stairs and stood in my doorway, along with my next door neighbour, feeling totally helpless and simply just waiting for the water to come into my house.
A short while later the water was flowing through the front door and I was informed by fire officers - who had arrived - that I had to leave my property on grounds of safety.
I locked the door, took my handbag and insurance details and waded out of my home in waters up to my waist.
I reached dry land, and that was it. I was left all alone with nowhere to go as my parents were on holiday and most people were at work.
The fire brigade said that they didn't know what I was supposed to do - their job was to preserve life.
I walked through Longlevens, soaking wet and totally in shock.
Fortunately a close friend of mine left work and took me to her house for a hot shower and food. At the time, I felt totally and utterly helpless and lost.
For many people their home is their sanctuary, a place to retreat, but for me this had gone.
The rest of that day was spent calling insurance companies and dealing with the practicalities of the situation.
20 July, 2007
Once I had been through the process of loss adjusters, installing driers, and the house being gutted, the rain came again - but this time it was worse.
I couldn't believe it was happening again.
The whole drying process started all over again and I had to complete another insurance claim.
Usually one refurbishes one room at a time, but picking colours and kitchen units and furniture for the whole downstairs of the property was very stressful, especially for someone who is a self-confessed perfectionist.
We finally moved back home in the December after spending six months living with my parents. It was a very strange feeling.
The following New Year's Eve we had a party and it was great.
The whole housing estate had pulled together and pulled each other through, and the party celebrated new starts and new friendships.
The floods, combined with many other adversities that I have had to deal with in my lifetime, made me re-evaluate the direction that my life was taking.
I saw a counsellor for a period of time and I also started losing my hair due to a delayed stress reaction to the floods.
It was a counselling course with Listening Post in Gloucester that became my life-changing experience.
I left my job, which was simply just that, to pursue a passion and took a place at the University of Worcester for a degree in counselling psychology.
Now my ambition is to work with people who suffer with mental health problems."