Stephen Morris reviews Cheltenham singer songwriter Juey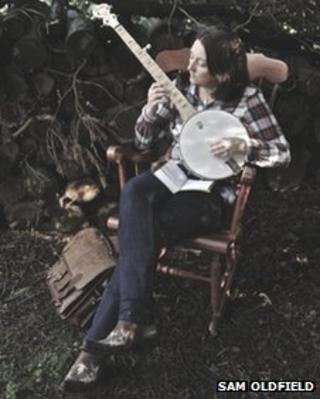 Regular readers of these pages (and I know they exist because I've met a couple of them) will be aware this writer takes some impressing when it comes to songs with roads and the weather featuring heavily as metaphors.
The trouble is, they are the default setting for aspiring singers and songwriters.
Not sure what to write? Ah, well Paul McCartney wrote that song once about a road being all long and winding and all that. Maybe it'll work again.
The nature as allegory, passage as parable motif is the second refuge of artists with nothing to say: the first being a dazzling wardrobe with which to distract audiences from the dismal lack of musical merit.
Except with Juey.
Cheltenham's Juey is a prolific, awe inspiring musical talent.
Okay, the natural world may creep into her songs (see 'Alone in Arizona', 'Runaway' and 'Holding on for You').
And there's a few allusions to horizons and journeys littered throughout her new album.
But these metaphors appear, less out of an unimaginative reliance on cliché, more the result of blood, sweat and tears of craftsmanship, artistry and no little life experience.
At its heart, album 'Ever Decreasing Circles' (there is, mysteriously, no reference to Richard Briers or Penelope Wilton in any of the 11 songs) is a record full of sadness.
'Early Learning' is the tragic tale of a girl who has to deal with a 'life on the brink', coming from a home of domestic abuse.
Elsewhere, 'A Different Side' is the bitter reflection on a relationship: "let down before my eyes, disbelief sets doubt aside".
It's a disconcerting moment which forces the song's narrator to realise she's "seen a different side of me tonight/from seeing a different side of you tonight".
The simplicity of the language in these songs is part of the exquisite charm.
In the thumbnail sketch of a few well chosen words, Juey is able to conjure up whole worlds of pain and sadness.
'Serenity Song' forms a confessional moment in which Juey sings of the frustration of things being out of her control following a break up.
Meanwhile album finale 'Catch a Falling Knife' is the very definition of vulnerability, the tale of two lost souls having to deal with emotional baggage as they commence a relationship together ("I've too many scars, for my skin it is hardened").
Even the lighter sounding moments from the album come from a darker place.
'Gin' sounds like some hedonistic sing-a-long drinking song at first: an anthem to Mother's Ruin.
But the tribute to a drink "clear as water, good as gold", comes, once more, following immense sadness: "we used to start the day with a coffee and the news/well now it's gin o'clock and the window that I choose".
The medium with which Juey presents these poignant tales of woe is a mixture of bluegrass country and contemporary folk: both tried and tested methods of conveying an intense sadness.
Juey delivers her songs with intricately crafted self-accompaniments on the guitar and banjo.
Fans of Stressechoes will already be familiar with this immense talent, used to great effect on their recent album 'Goodnight, Impossible', reviewed elsewhere on these pages.
Despite the bleak content of the songs, they are remarkably easy to listen to.
And so we find ourselves lulled into a world of sadness, barely noticing the encroaching subtle shades of sadness.
Just as with her EP '…Before the Devil Catches Me', 'Ever Decreasing Circles' is a multi-textured record, a thing of profound beauty and deceptive simplicity.
It is impossible to remain immune to this album's charms.