Severn Trent wants Gloucestershire bowsers returned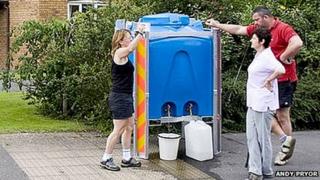 About 20 bowsers, used to provide drinking water to people affected by the Gloucestershire floods of 2007, are still missing.
More than 1,000 bowsers were issued exactly five years ago when Tewkesbury's Mythe treatment works flooded, leading to the loss of the mains supply of water.
A Severn Trent spokeswoman said the company "would love to have them back".
She urged anyone with information about their whereabouts to get in touch.
Grace Marren from Severn Trent said: "Police did help us recover a number of them [that we did not get back at the time].
"If anybody is aware of any we'd be grateful if they were returned. We could use them elsewhere."
About 140,000 homes in the Gloucester, Cheltenham and Tewkesbury areas lost their water supplies for about two weeks, beginning on 22 July 2007.
It followed some of the worst flooding on record in the county.
The big blue bowsers became a familiar site on street corners in the affected communities, with people queuing up with buckets and bottles to get their water.
Severn Trent said each bowser cost about £500 new or about £200 for a second-hand one.