Cotswold residents concerned about A436 speeding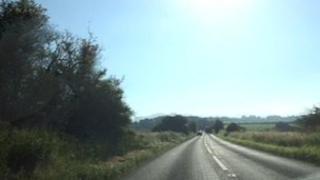 Residents claiming to have recorded many motorists speeding at over 90mph (145kph) in part of the Cotswolds are campaigning to end the issue.
They say that private data collected on a stretch of the A436 shows that hundreds of motorists are doing in excess of that speed every week.
A campaign group has now been set up as residents bid to tackle the problem.
Gloucestershire Police said they were monitoring the road and would deal with those who flout the speed restrictions.
A force spokesperson added that speed surveys had been carried out on the A436 and results showed that most drivers do stick to the speed limits.
'Lots of evidence'
The private speed data has been gathered by residents living on the A436 between Andoversford and Bourton-on-the-Water.
Robin Finch, chairman of Shipton Parish Council, said the issues were mainly speeding motorbikes and lorries.
Another resident, Amanda Kitson, said she had seen lots of near misses.
"Because the road is not marked anywhere, there are no white lines, people are constantly trying to over take on the bends," she said.
One example was given of a motorbike rider who was measured doing a speed of 139mph (224kph) on one evening in June.
Peter Hellier, who lives on the road, said: "It's not every biker, a lot of bikers do ride within in the speed limit, but there are a number who use the A436, the A429 and the A40 as a racetrack and we can literally watch them go round and round."
The residents would like to see the speed limit on this section of road brought down from 60mph to 50mph.
Councillor Paul Hodgkinson, chair of NO CRASH (North Cotswolds Rural area Against Speeding Harm), said the group would be producing a list of requests over the next few weeks.
"With the kind of bends and track record with accidents, we really need this [speed limit] to come down by at least 10mph," he said.
Gloucestershire Highways has said it is looking forward to meeting the campaigners and discussing the issues raised.