Gloucester Christians receive apology over leaflet ban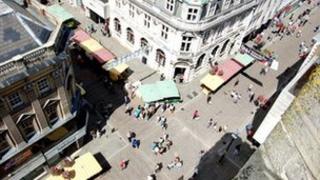 Christians who were barred by a council worker from handing out bible leaflets in Gloucester have received an apology.
The city council said a member of its staff had mistakenly enforced a by-law to prevent the group from distributing literature on Bible Day, 23 June.
Religious leafleting is exempt from the 2002 anti-touting by-law in question.
The authority's chief executive has written to the group offering unreserved apologies for any stress or inconvenience caused on the day.
Damages demand
In the letter, Julian Wain said: "All city centre staff are now fully aware of the extent of the council's powers, including the exemptions under the Environmental Protection Act 1990, and there should be no further cause for any future misunderstanding."
He thanked the group for highlighting the gap in the officer's training and said it would be addressed.
Roland Parsons, a spokesman for the Christians in Gloucester group, said: "The city council's illegal action has resulted in our being subjected to vilification locally which falls far short of the council's duty of care to the Christian religious community in Gloucester.
Mr Parsons, who has spent 29 years preaching in the city, said Christians in the country needed to realise the "perilous destruction" of their religious liberties.
Lawyer enlisted
He added the group was seeking a symbolic £30 damages payment from the council - £1 for each of the 30 Christians stopped that day - which would be donated to Gloucester City Mission.
Failing that, the group - which has enlisted the help of a human rights lawyer - has said it will claim full legal costs and punitive damages.
The council is already working on a plan to address complaints from members of the public about charity collectors, buskers, street traders and religious groups which are operating in the city centre.
It has said it will now be exploring the situation in relation to leafleting.
The 'Transforming Your City' 2011-2014 plan aims to discourage "environmental crimes", such as littering, which it says is often the result of leaflet activity.
So far a voluntary code has been agreed with charity collectors and a policy has been introduced in relation to busking and street entertainment.