Nurse committed suicide after diabetic partner's death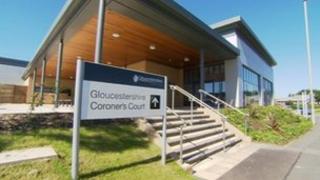 A nurse in Gloucestershire committed suicide after failing to revive her diabetic partner, a coroner has said.
Roy McQuillan and Ann Luca Del Giudici were found dead in March last year at the house they shared in Kayte Close, Bishops Cleve, near Cheltenham.
The coroner sitting at Gloucester Coroner's Court recorded an open verdict on Mr McQuillan's death.
Police were called after the couple both failed to turn up at work at Cheltenham General Hospital.
The inquest heard that Mr McQuillan, 50, a hospital porter, split up with his wife and moved in with Ms Del Giudici, 59.
'Adverse reaction'
The couple, who became engaged a year before their deaths, had a volatile relationship which seemed to be coming to an end, the court heard.
Mr McQuillan, a Type 2 diabetic, was not good at managing his insulin, the hearing was told.
The father-of-five's body was found in bed near a blood sugar monitor with consistently low readings.
The court heard he had previously attempted suicide and had taken an insulin overdose in a possible cry for help,
Mother-of-one Ms Del Giudici's body was found in the bath, the inquest heard.
Tests showed high levels of an antibiotic she was known to be allergic to.
The inquest heard she had tried to treat her partner by administering sugar solution, but after realising she had failed, took a number of trimethoprim tablets, knowing she would suffer an adverse reaction.
Acting Coroner David Dooley recorded an open verdict on the death of Mr McQuillan and a verdict of suicide on Ms Del Giudici's death.