Gloucestershire wallaby missing from Hartpury College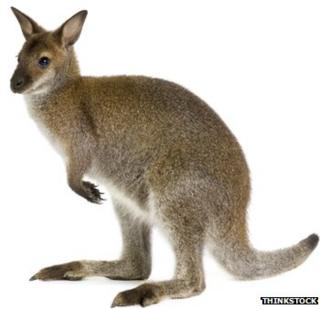 A wallaby spotted near a main road in Gloucestershire is probably one which escaped from a college, it has emerged.
Hartpury College, which runs animal care courses, confirmed one of its wallabies had been missing since June.
College chiefs suspect a student prank for the release of three wallabies - two of which have since been caught.
On Tuesday, police warned drivers on the A40 near Highnam to "watch out for wallabies" after receiving a number of sightings.
A police spokesperson said the majority of sightings had been around dusk and dawn and they were making inquiries.
Luke Rake, vice principal of Hartpury College, said it had acquired three wallabies from Marwell wildlife park earlier this year.
He said: "They were delivered on 1 June and, during the course of that weekend, sadly the gates to the temporary enclosure they were in were left open.
"We're not sure why, but we suspect it was just student high jinx rather than anything malicious. So the three wallabies made a bid for freedom.
"We recovered two of them very quickly but the male is rather elusive and that's the wallaby that we suspect is in the Highnam area."
Hartpury College, which is less than four miles (6km) from the A40, is situated on 200 hectares which include an arable farm, fishery and game rearing unit.
Its animal care department has an extensive range of small mammals, reptiles, fish, birds and large animals.
Mr Rake said the college would like its wallaby back and wanted to hear from anyone who has seen it.
Wallabies are marsupials found mostly in Australia and nearby islands. They can grow up to 6ft (1.8m) from head to tail and use powerful hind legs to travel at speed.
They are herbivores and eat mostly grasses and plants.