Gloucestershire domestic abuse provision shake up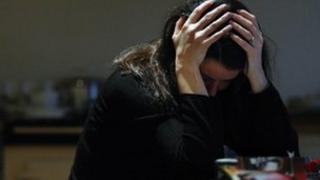 A shake up of domestic violence services has resulted in three refuges closing down in Gloucestershire.
People Can, which won the county council contract to run services, has said it will focus more on outreach and early intervention work.
The existing 15 safe houses in Gloucester will continue to run and may increase in number depending on demand.
Critics of the closures have said refuges play a valuable role in helping people at their most vulnerable.
'Fearful times'
Charlotte Woodward, manager of Gloucestershire Domestic Violence Support & Advocacy Project, said: "When a woman has to flee from a dangerous situation, this is one of the most vulnerable and fearful times of her life.
"With a refuge not only she is getting the support from women who are a little further down the road to her, but she's not alone, she has that intensive on-site help from staff in those vital few early weeks."
Safe houses are used to house individual families on a long or short-term basis with access to support and advice from staff.
Refuges can see several families living together communally on a long or short-term basis where people also have intensive support and practical help from staff.
People Can has said the focus on safe houses will mean the individual needs of families can be met more effectively.
Sally Morrissey, from People Can, said: "There is a still a place for refuges, but there are also some women who can't escape to a refuge.
"It could be because of cultural issues which may make it difficult for them to live communally, or drug, alcohol or enduring mental health problems."
The refuges which have closed down are in Gloucester, Cheltenham and the Forest of Dean.
One independently-run women's refuge will continue to run in Stroud although it lost its county council funding earlier this year.
People Can has said the changes were made after receiving feedback from domestic abuse victims and support workers.