Placenta found in woods in South Woodchester by dog-walker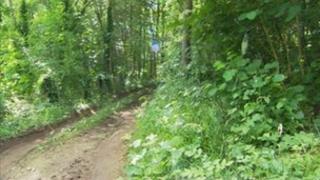 A placenta and medical equipment have been found in a bag by a dog-walker in woods in Gloucestershire.
The discovery was made in South Woodchester, near Stroud, at about 19:00 BST on Thursday.
Police said the materials had been examined by a midwife but it was not yet possible to say whether the placenta was human or animal.
If it is from a human, the placenta is suspected to be from the birth of a baby of about 20 weeks' gestation.
Inquiries have been made with local maternity units, but none of them has admitted a woman who has given birth to a baby of that age.
Det Insp Steve Bean said: "Our overall concern is that there may be a woman who has medical needs, and equally there may be a very premature baby requiring urgent medical attention.
"We need to hear from whoever left the items there or, alternatively, anyone who has information about who left them there straight away.
"I can guarantee that all calls will be dealt with sensitively. This is not a criminal investigation, it is purely aimed at ascertaining the welfare of whoever was involved in leaving the materials there."
The bag, discovered on a track that leads from Bospin Lane to Selsley Common, also contained a bowl, syringe cap, towels and other equipment commonly used by midwives.