Halfway House pub campaigners hold vigils in Gloucestershire village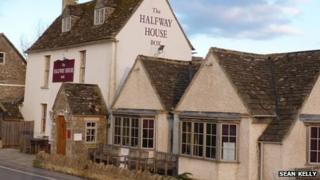 Campaigners who want to save a village pub in Gloucestershire say they will hold vigils outside it every week until it is reopened.
The Halfway House at Box, near Minchinhampton, was closed on 8 July by owners The Novalis Trust.
About 50 local people staged a protest on 27 July and say they will continue to protest every Friday.
They claim they have been told it is no longer a viable business. No-one from the trust was available for comment.
The Novalis Trust, a charity which runs the nearby Cotswold Chine School, bought the premises in 2002 to help finance the school's educational activities.
'Exorbitant rents'
Campaigner Sean Kelly said: "The Chine School and The Novalis Trust concede that it's not a viable proposition to keep it open but those facts are clearly disputable.
"The pub has been run successfully in the past. The previous landlord offered to buy the freehold.
"The trust have charged exorbitant rents to landlords to make it non-viable. They want to close it and turn it into a cafe."
Locals say the pub, which dates back to 1779 and was the only one in the village, was a "key part" of the community.
More than 800 people have signed an online petition calling for it to be reopened.
A spokesman from the Novalis Trust said nobody authorised to speak about the matter was available for comment.