Gloucester seagull egg oiling 'hot spots' targeted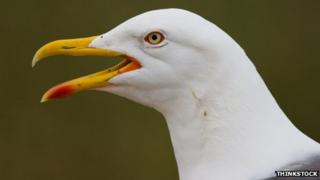 A scheme designed to control the population of seagulls in Gloucester is to be expanded following complaints from businesses.
They have complained nest-building debris has blocked drainage gutters, causing flooding during recent heavy rain.
The city council has been oiling eggs in parts of the city since 2003, in an attempt to prevent them from hatching.
A spokesman said the council would target more "hot spot areas" next year.
David Peeling, from printing firm Severnprint, based on the Ashville Trading Estate, said the seagull problem had been particularly bad this year.
He said: "They bring debris on to the roofs, they bring nest sites up on to the roofs, that washes into the gutters and that blocks the gutters up.
'Seagull mess'
"We clean our cars usually over the weekend, bring them in on a Monday morning, and by Monday afternoon or Tuesday morning most of the cars here will be covered in seagull mess."
There have also been complaints that humidity control within buildings has been affected by blocked drains.
A city council spokesman said: "We are noticing a year on year decrease in the number of eggs in the areas we are treating as part of our annual egg oiling programme, but we are aware that whilst some areas have less gulls other areas have apparently had increased activity.
"So, in addition to the existing programme, we are looking at providing egg oiling in other 'hot spot' areas next year.
"We would advise businesses to remove any old nests and other debris from their roofs before the winter to ensure that it doesn't block rain water gullies and cause damage to their buildings."
In 2005 it was estimated that 2,300 pairs of lesser black-backed gulls and herring gulls nested in the city centre.
The council said it oiled about 1,000 eggs each year in an effort to sterilize them.