No mains leaks in Cheltenham gas explosion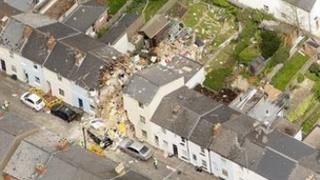 An investigation into a gas explosion in Cheltenham has found there were no leaks in the street's gas mains.
Wales and West Utilities said there were no gas leaks from the old cast-iron main or the new polyethylene one which supplied Rosehill Street.
Meanwhile a couple who were forced to move into temporary accommodation are to return home.
Edward and Claire Cook said they would move back into their home in Rosehill Street on 7 August.
Betty Hodgkiss, 81, suffered minor burns, cuts and bruises after her home was destroyed in the blast on 10 May.
Two neighbouring houses also had to be demolished. Other families are still living in temporary accommodation.
Mr and Mrs Cook have been living in rented accommodation nearby since the blast caused structural damage to their house.
The occupants of at least 10 other homes have been forced to move out while repairs are carried out.
An investigation into the explosion by the Health and Safety Executive (HSE) is continuing, Wales and West Utilities said.
The gas company said its investigation was complete and the findings would be shared with the HSE.
Mrs Hodgkiss's family said in a letter in June that she "did not light any gas cooker or fire" as none were fitted in her house.