Stow bids to become neighbourhood area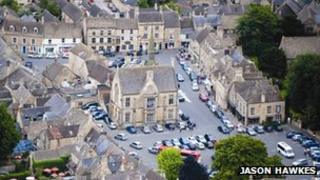 People in a Gloucestershire town are aiming to use new powers to get a community centre and low-cost housing.
Stow Town Council has applied for its parish to become a neighbourhood area - the first formal stage in setting up a neighbourhood plan.
Under the Localism Act, communities can use neighbourhood plans to allow development they want without the need for planning applications.
There are also plans for houses that double as workplaces in the town.
Neighbourhood plans must follow national and local strategic policies but can give communities more of a say about what goes where, and what it looks like.
The first stage in the process of becoming a neighbourhood area is to designate the area to be covered.
Stow's proposal is subject to public consultation, with a 19 August deadline for comments.