Gloucester peace march after 2011 disturbances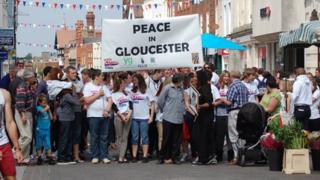 Hundreds of people have gathered in Gloucester for a peace march to mark a year since disturbances in the city.
Some 200 people, young and old, joined together under an "increase the peace" theme to show their opposition to the disturbances in August 2011.
Live music and dancing performances also took place in King's Square.
More than 3,000 people were arrested after riots spread across England in what was the biggest display of civil unrest in the UK for 30 years.
'Belief and pride'
In Gloucester, police officers came under attack from up to 60 youths throwing rocks and bottles.
Shop windows were also attacked, bins set on fire, and 100 firefighters tackled a blaze at a former arts college.
Gloucester's MP, Richard Graham, said: "We're going to make a statement of belief and pride in our city, an endorsement of positive action by and with our young and a rejection of what happened in 2011."
Luke Stokes, a youth worker from Matson, said respecting where you are from was an important message.
"The more peace there is, the more people will get along, and that's what it's all about," he added.
Serena Margaret, a mother-of-two from Tuffley, said: "It's about trying to get involved, supporting Gloucester, and giving [young children] something to do every day in the holidays or after school."