Olympic dressage star Charlotte Dujardin's golden rise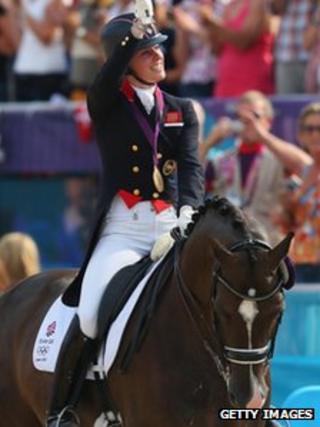 Just 18 months ago Gloucestershire's double gold medallist Charlotte Dujardin had not even competed at senior international level.
The rider was introduced to her coach and team-mate Carl Hester, 45, five years ago by her mother, Jane.
She begged the dressage star to to take a look at her daughter, who had been too shy to ask him for a lesson.
"I had three lessons and then he asked me if I could do 10-days' cover and I never went home," Charlotte said.
'Lucky break'
The 27-year-old, who was born in Enfield, London and competing to movie themes including The Great Escape and Live and Let Die, defeated the Netherlands' Adelinde Cornelissen to win Britain's second dressage gold medal of London 2012, riding Valegro.
Charlotte's mother said she had been struggling to finance her daughter's dream.
"When my mum died I was lucky enough to have some inheritance money and I just knew I had to put that money to buy Charlotte a horse," she said.
"Thank God I managed to get hold of Carl and put her in the right hands.
"I know everyone wants a lesson... I just knew she needed a lucky break - she had all the talent but unfortunately I never had the financial backing.
'Just unbelievable'
"So many times you see children who can't afford to go forward and if you get the lucky break which truly we have and she did - it's just unbelievable ," Jane added.
Gloucestershire-based duo Laura Bechtolsheimer and Carl Hester finished third and fifth. in the individual dressage event.
Later on Thursday the Royal Mail confirmed it would be issuing its 23rd gold medal stamp to celebrate her victory.
A spokesman said Royal Mail will also paint a second of its historic red post boxes gold to celebrate he win, this time in Newent, Gloucestershire, where she lives and trains.