Gloucester man warns others after jail sentence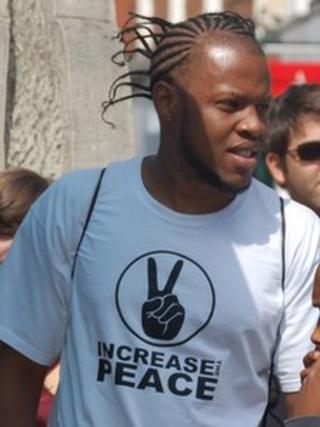 A man who was jailed for his part in disturbances in Gloucester has warned others to "think before your actions".
Kieran Newell, 27, from Tredworth in Gloucester, was sentenced to five months in jail in January after pleading guilty to violent disorder.
The judge said Newell, who was described as a talented musician, had not taken part in actual violence.
He served a month in Gloucester Prison and three months with an electronic tag.
At Gloucester Crown Court, Judge Jamie Tabor described the disturbances last August, in which shops were looted, windows smashed and the former Gloscat building set on fire, as a "disgrace" and said sentencing was being used as a deterrent.
The court saw CCTV showing Newell, wearing a distinctive white hoodie, tapping on a shop window with his finger.
He disappeared from view and others were then seen trying to kick their way into the shop.
'Stay positive'
Judge Tabor admitted that Newell had not actually taken part in the violence, but said that he still had to send him to jail.
Following the riots in several parts of the country last summer, judges were given guidelines on sentencing.
The court heard Newell had previously served two-and-a-half years of a four-year sentence for a conviction involving Class A drugs.
Mr Newell said he became involved in the disturbance as a spectator due to curiosity.
He said: "It's not very often stuff like that happens and you get to witness it first person so I was just curious as to what was going on.
"Considering I didn't really do anything I was not very impressed with the sentence but it is what it is, isn't it?"
He warned others to "think before your actions".
"Because with every action there's a reaction so just think about what you're doing.
"Make sure you live life right and on the right side of the law.
"Jail's not a nice place. It's put a slow-down on my life but at the same time, jail made me say to myself: 'I'm not going back to jail again'.
"And now I'm involved in Increase the Peace, doing youth work and mentoring.
"I'm looking at the glass as half full rather than half empty."