Prinknash Abbey monks concerned about 'theme park'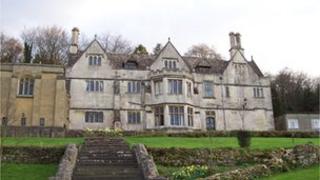 A group of Benedictine monks says it is concerned that a nearby bird park plans to grow into a "theme park".
Prinknash Abbey, near Gloucester, has complained to Stroud District Council that The Bird and Deer Park is trying to develop in an inappropriate way.
The park wants to build a visitor centre and animal welfare building.
Its owner, Melanie Meigh, said a "very detailed agreement" had been reached with the Abbey and she had no plans for further expansion.
But the abbey said its planning consultant had raised fresh concerns about the possibility of development in certain areas.
Witch concern
Father Martin McLaughlin said: "Because of the size of the building, it seems to us that it will develop as a theme park which isn't first of all the agreement we have, and also we don't believe it is right for this estate.
"We are concerned about the types of events that take place there. One example is a Halloween event.
"We are not against people dressing up as witches and having good fun, but we do think it is inappropriate to do it right on the doorstep of a Benedictine monastery."
A formal objection has been made to the council but the abbey said it would consider retracting it if it received assurances that the owner had no further plans to expand the park.
Ms Meigh said she did not think the park could afford much more expansion.
'Long way away'
She said: "This is a very expensive project for the park. It has to be in keeping with what we do.
"Frankly the abbey is a long way away and I don't have any dealings with them in any way.
"They are a closed order, and it has no bearing on the park. The park is autonomous and it needs its facilities."
St Peter's Grange, the current home of the community, served as a monastery from 1928 until Prinknash Abbey was built in 1972.
At its peak, the monastic community numbered about 60 but when numbers dropped to some 10 monks, the abbey was sold and they returned to the grange in 2007.