A417 Gloucestershire overnight closure could last months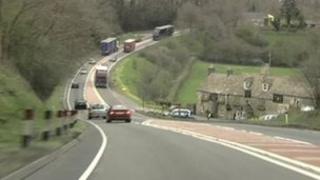 An 11-mile (18km) stretch of the A417 in Gloucestershire could be closed overnight for almost three months.
Both carriageways, from the Air Balloon roundabout to Cirencester, will be shut between 20:00-06:00 BST to allow crews to carry out re-surfacing work.
The Highways Agency said it was hoping to complete the work by the end of September but may not finish until November if the weather is poor.
A 22-mile (35km) diversion via Northleach will be in place.
A spokesperson said a full closure of the road would be required due to a lack of available diversion routes.
Local access for businesses will be made available.
In February, two Conservative MPs wrote to roads minister Mike Penning appealing for a section of the road between Cowley and the Crickley Hill to be upgraded.
Cotswold MP Geoffrey Clifton-Brown and Tewkesbury MP Laurence Robertson said the single carriageway section was "one of the worst pinch points on the national road network".