Royal Mail job loss threat over Gloucester site closure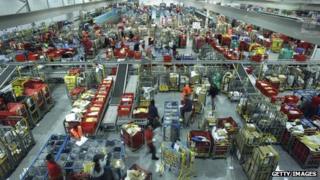 Some 380 jobs are under threat in Gloucester as Royal Mail has proposed to move its mail processing plant.
It has announced formal plans to relocate its processing operations to Bristol, resulting in the closure and sale of Gloucester mail centre.
Royal Mail said its decision had been formed after a five-month consultation with staff and trade unions.
A Communication Workers Union (CWU) spokesman said staff were "disappointed and very worried about their futures".
Letter volumes falling
Royal Mail said the consultation would continue and a final decision was expected to be made later this year.
It blamed "challenges from digital communication, competition and mail volume decline" for the site closure proposals.
A spokesperson for the company said: "Our aim is to secure as much long-term employment and job security as possible and to deliver an efficient, consistent and reliable service for our customers."
It is also proposing to create two mail processing units at the existing Gloucester North and Stroud delivery offices, with sorting machines to be transferred to these facilities.
Royal Mail began a major review two years ago, in agreement with the Communication Workers Union, for the purposes of modernising the business.
Earlier this year its financial results indicated that letter volumes fell by 6% in the UK compared to the previous year.
'Lot of cynicism'
A spokesperson added: "We are now delivering 58 million items a day compared to 84 million items a day six years ago.
"In Gloucester, mail volumes of items posted to addresses in the region from other parts of the country have fallen over 18% during the last three years.
"Mail volumes of items posted to addresses outside the region have fallen by 27% in the same period."
Paul Trehearne, branch secretary for the CWU, said: "There is a lot of cynicism amongst our members who believe that Royal Mail has just walked through the process over the last six months and knew right from the very start what the plans were for Gloucester's mail centre.
"We still have an opportunity between now and the beginning of November to try and influence Royal Mail's decision."