Asbestos 'likely to be in 70% of Gloucestershire schools'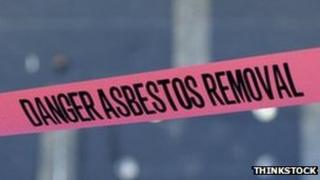 More than 70% of schools in Gloucestershire are likely to contain asbestos, the BBC has learned.
Figures obtained by a Freedom of Information (FOI) request reveal more than 200 of the 302 state schools in the county could contain the material.
More than 140 teachers in the UK have died from the asbestos-related cancer mesothelioma in the past 10 years.
The county council said asbestos in schools is not dangerous "unless it is disturbed".
In response to the FOI request, Gloucestershire County Council said: "It is likely that 70% plus of Gloucestershire County Council schools contain asbestos of some type (including low risk products).
"Many of our schools built before the year 2000 contain some form of asbestos."
'Treated properly'
Head teacher of Katharine Lady Berkeley's School in Wotton-under-Edge, Andrew Harris, called on the government to provide capital funding for asbestos removal.
He said: "Because we don't have a specific grant for asbestos removal then much of that is coming from our normal revenue funding.
"It's money that, if we weren't spending it on removing asbestos, then we could be spending it on teaching staff and learning resources."
Mr Harris said about £80,000 had been spent on the problem in his school since 2005.
A spokesperson for Gloucestershire County Council said: "Everyone knows that schools built in the 1960s and 1970s often have asbestos in them.
"It doesn't pose a risk unless it is disturbed and we help schools keep accurate records to make sure it is treated properly and safely.
"Schools that have converted to academy status are responsible for making their own individual arrangements for the identification and management of any asbestos containing materials in their buildings."
Last year, the Department for Education (DfE) revealed that its "best estimate" was that more than three-quarters of schools in the UK contain asbestos.