Tall Persons Club mark 21st anniversary in Gloucester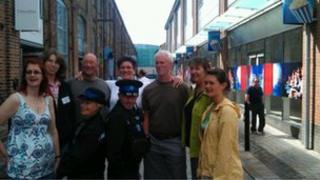 A group of 80 people from across the country have begun celebrating the 21st anniversary of the National Tall Persons Club in Gloucestershire.
The group was set up by Phil Heinricy to promote tall people's interests, like leg room in car and plane seats.
Organiser Louise Ross Foden said: "We can't go on a diet and lose height, so you've got to get with it or be miserable all your life."
The main event will be a gala ball in Gloucester on Sunday evening.
Another club member, Hilary Roberts, who is 6ft 3in tall (1.9m), said: "It's nice being able to stand in a room where you can look at people who you can look at in the eye.
"Everyone is really friendly and because everyone has gone through the same things, trying to find clothes, shoes, or a girlfriend or boyfriend, you can bond and you find you have other things in common."