Prinknash Abbey monks fail to halt bird park plans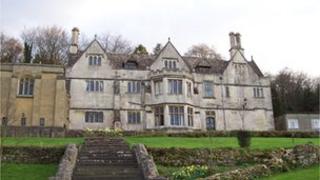 A group of Benedictine monks have failed in their bid to halt building plans at a neighbouring bird park.
The Prinknash Abbey residents had objected to plans for a new visitor centre and animal welfare building at Prinknash Bird and Deer Park.
The monks have no right of appeal, other than to apply for judicial review of the decision in the High Court.
Father Martin McLaughlin, from the abbey, said he was "surprised" permission had been given.
He declined to comment further until they had the opportunity to analyse the planning consent and receive advice from their planning consultants.
Planning officers at Stroud District Council decided to grant the application without reference to councillors under a planning procedure known as delegated powers.
'Great passion'
Father McLaughlin had called for the decision on the application to be considered by the council's planning committee, citing the fact the abbey is a Grade I listed building and the 300-acre estate first came under Catholic church ownership more than 900 years ago.
Melanie Meigh, the owner of Prinknash Bird Park, said the park staff were "absolutely delighted" and work would start immediately.
"It was a very straight forward planning application - the animals need their welfare facilities and it's pretty standard these days to have loos and a small visitor centre for the public," she said.
"[The decision] means something my father started all those years ago with a great passion will continue," Ms Meigh added.
St Peter's Grange, the current home of the community, served as a monastery from 1928 until Prinknash Abbey was built in 1972.
At its peak, the monastic community numbered about 60 but when numbers dropped to 10 monks, the abbey was sold and they returned to the grange in 2007.