Restored Herefordshire and Gloucestershire canal section opened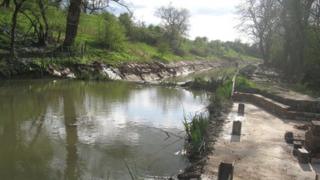 A newly restored section of canal near Gloucester has been officially opened.
A flotilla of boats travelled along a one-mile stretch of the Herefordshire and Gloucestershire Canal.
Members of the canal's trust restored the section at Vineyard Hill as part of an ongoing project to reinstate the entire 34-mile (55km) waterway.
Waterways enthusiasts Prunella Scales and Timothy West unveiled a plaque to mark the opening on Sunday.
Spokesperson Natasha Turney said: "A mile doesn't seem that much but every little bit helps. The whole aim is to restore the full 34 miles.
"This leads us a little bit closer to that aim."
A project to fully restore the Herefordshire and Gloucestershire Canal started in the 1980s.