Gloucester City FC 'let down' by council planners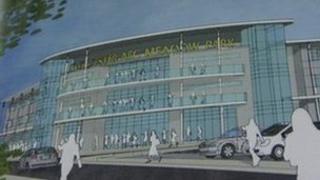 The chairman of Gloucester City FC says he has been "let down" by council planners after they failed to approve plans to rebuild the club's stadium.
Meadow Park was hit by flooding in 2007 and has been shut ever since.
At a meeting on Tuesday evening, Gloucester City Council planners asked for the club to provide more detailed flood risk assessments.
Chairman Nigel Hughes said the delay was "frustrating" and the report would cost "up to £100,000" to produce.
Since 2007 Gloucester City has played home games at the grounds of Forest Green Rovers, Cirencester Town and Cheltenham Town.
Blueprints for a new stadium at the Meadow Park site include plans for the pitch to be raised by 3m (10ft) from its existing level and for a flood defence bank to be built.
The council said further flood risk assessments were required before planners could decide whether the plans could go ahead.
Gordon Taylor, chairman of the Gloucester city planning committee, said: "Whilst we want the club to come back to Sudmeadow Road, we just need to be sure about the flood risks with the flood alleviation scheme which they have proposed, and also the flood risks further upstream where the infrastructure is and the Quay.
"Until we have more information on that we felt it was not possible to grant permission."
Gloucester City FC chairman Nigel Hughes said he felt very let down by the council.
"In one sense they have been very supportive and have helped us financially while we have been away [from Meadow Park]," he said.
"But having discussed things and given information to them it really has taken far longer than we would have expected to respond and get back to us on certain matters.
"It's just delayed and caused additional frustration."
Mr Hughes said the new report would cost the club "well in excess of £50,000 and potentially as high as £100,000" to produce.
A technical group made up of council officers, the Environment Agency, Gloucestershire Highways and club representatives was set up by the council.
The club had originally hoped the new stadium would be open in time for the start of the 2014-15 season.